Helitec Structural Services commitment to ongoing construction training is core to our success, we support and encourage our employees to continue to refresh and up-skill their existing qualifications.
Helitec staff have recently undertaken recent construction training in;
OH&S (Construction Industry Worker) accreditations.
Elevated Work Platform EWP licence (Scissor, Boom Lift) – YC20170302
Helifix Approved Installer Training – In house and Helifix
Working at heights – CPCCCM2010B
Scaffolding erection – CPCCLSF2001A
Supervising building work – CPC40110
First Aid – HLTAID003
HRW, machinery licence (Fork) – TLILIC2001
RISI, Rail Industry Worker Licences – TLIF2080
Safety Testing & Inspection of Electrical Equipment – 136787
Prepare business activity and Income activity statements and tasks – FNSBKG404
Helitec In-house training program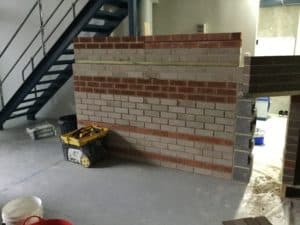 Helitec has a comprehensive staff construction training program for all operational staff before they can commence work on site. The Training Program aims to teach and encourage safe work practices as well as develop additional skills required to comply with the correct Helitec work practices and standards.
Completion of the Helitec Staff Training Program, assessment and certification is mandatory for all Helitec staff. We train our employees to the level of Helifix approved installers.
The Helitec Staff Training Program covers technical information and specialist skills and knowledge and understanding required for design, detailing and installation of helical masonry repair and strengthening systems.
The Training Program and regular updates aim to prepare field staff for additional and specific skills required for our projects. Our services are wide ranging including:
Remedial building, construction and scaffolding
Project management and occupant liaison
Structural problem analysis and solution planning
Construction permits approvals
Building warranties
Window and balcony door replacements
Re-tiling of balconies
Exterior finishes
Rendering and custom finishes to facade face
Balustrade upgrades
Masonry repointing and renewal
Contact Helitec on 1300 234 450 or complete our contact form if you require further information or to discuss your projects and requirements.