Helitec are experts at replacing and repairing brick & stone walls. At Helitec our qualified masons take pride in their masonry restoration craftsmanship. Brick & stone arches, walls, lintels, landscape retaining, and sea walls are all covered.
Brick & Stone Restoration
When masonry walls begin to show signs of deterioration such as erosion, cracking or fretting, there are a number of causes that may be to blame. Subsinance, water ingress, direct impact and salt degradation are some of the most common causes.
In most cases, individual pieces of brick or stone will be visibly affected. However, the mortar joints may also show signs of disrepair. Where it is apparent restoration work is required, we will remove affected pieces, treat the remaining ones as required to address the impacts of salt degradation and ultimately, replace and repoint to return the wall to its original condition
Due to marine environments and low grades of materials used during construction, wall tie corrosion has become a common issue in established buildings. If left untreated the consequence can lead to the exterior masonry of the cavity collapsing. Wall tie replacement is a fast and cost-effective option available to eradicate the issue. The craftsmanship used during repair of masonry components can be the difference between a building just being made stable or making it safe and enhancing its beauty. At Helitec we are dedicated to ensuring every building we work on looks great at the end of the job.
Contact Helitec for advice on brick and stone wall repairs or other building problems in all Sydney Metropolitan and NSW Regional areas. Contact Helitec now if your brick or stone wall has problems including;
Eroded or damaged mortar bed joints
Leaning, cracked or damaged walls
Damaged or spalling brick faces
Subsidence and ground movement
Brick growth or moisture movement
Have movement
Are bowed or lean
Have falling Parapets
Falling floors
Have lateral movement between stone courses
Your walls may be failing, and in a worst-case scenario, they may collapse.
Helitec use proven methods to repair brick & stone walls. Helitec Structural Services are Approved Helifix Installers.
Fully licenced and insured, all Helitec Structural Engineers are registered with Engineers Australia.
Helitec is a proud member of the Master Builder Association. The MBA promotes high standards and professionalism within the building industry.
Our expert team will fix your brick and stone walls.
Repointing
Repointing is a cost effect method to reinvigorate the appearance and structural integrity of your masonry building. Helitec Structural Services use traditional skills and materials bring old stone and brick buildings back to new and at the same time assess, identify and fix any underlying structural or other problems which may be present in the building.
Repointing is a process which involves the full or partial removal of the old, loose, damaged or incorrect mortar from the joints in between the bricks or stone in a building and replacing this with the correct and appropriate heritage or modern cement, lime sand mortar mixes often with colour tinting to match the original and surrounding brickwork. To undertake the work correctly requires a high level of care, skill and knowledge to ensure a result which will significantly enhance the appearance of the building and increase its value and longevity. Helitec Structural Services are experts in masonry restoration and repointing and can help return your home or building back to its former glory and also improving its structural integrity and performance.
Helitec can match the colour, texture and appearance of the original mortar used during the construction of your building. We use high quality material to ensure a durable repair for the years to come.
Taking care grinding out the old deteriorated mortar to a depth of 25mm to 30mm and chipping away all the broken, cracked and worn mortar between the bricks and stone we then throughly clean the joint to ensure a great bond between the remaining mortar and the new tuck pointing. Helitec Structural Services uses specialised tools fitted with dust control vacuum equipment to eliminate up to 95% of the airborne dust and waste. The joint is filled with carefully made flush with specialist trowels, so no residue is left on the brick or stonework. Once the mortar joint has been restored the surface is thoroughly cleaned.
The masonry walls that surround your home or building are fundamental to its structural integrity, provide a barrier to the wind rain and other elements, define the character and visual appearance to the building and most of all ensure the safety and comfort of all occupants and visitors to the building. Your walls will be nicely repaired for a home that's as aesthetically pleasing as it is safe to live in. We use non-invasive methods to ensure the repointing of your walls is completed with minimum disruption.
It is essential to maintain buildings and in particular walls, in a satisfactory condition to ensure their continued service into the future. Helitec's range of brick & stone restoration services also include:
One completed the benefits to your building include:
Rejuvenation of your building's appearance and the restoration of brickwork and stone back to its original condition
Protecting the integrity and historical character of your building
Increasing your home/building's value
Preventing future decay and repair costs
Maintaining peace of mind with friendly, experienced craftsmen who leave your site clean and tidy when they're done
Our qualified highly skilled masons and accredited structural engineers have a passion for bringing stone buildings back to glory. So, don't worry! Your home is in safe hands.
With our extensive experience, our structural engineers can diagnose the best cost saving method for the brick or stone restoration of your building. Using the latest techniques and technological innovations, our team will stabilise your masonry walls, and the foundations of your home if needed.
Our Guarantee for your brick & stone restoration:
Quick, efficient and professional service.
Free inspections.
Easy to understand quotations with easy to read building repair reports.
Affordable Pricing
Minimal disruptions to your enjoyment of your building and comfort of your buildings neighbours.
10-year warranty: if your repaired arches and lintels begin failing, we'll be back to fix them at no extra cost.
Visit our News Blog for information on some of our recently completed restoration and remedial repair works in NSW. From tuck pointing a single wall to a block of units, no job is to small or too big for our dedicated team of qualified tradesmen.
Helitec Structural Engineers are fully Licensed and Insured.
Helitec is a proud member of the Master Builder Association. The MBA promotes high standards and professionalism within the building industry.
We can help with your Stonework and Brick Restoration project.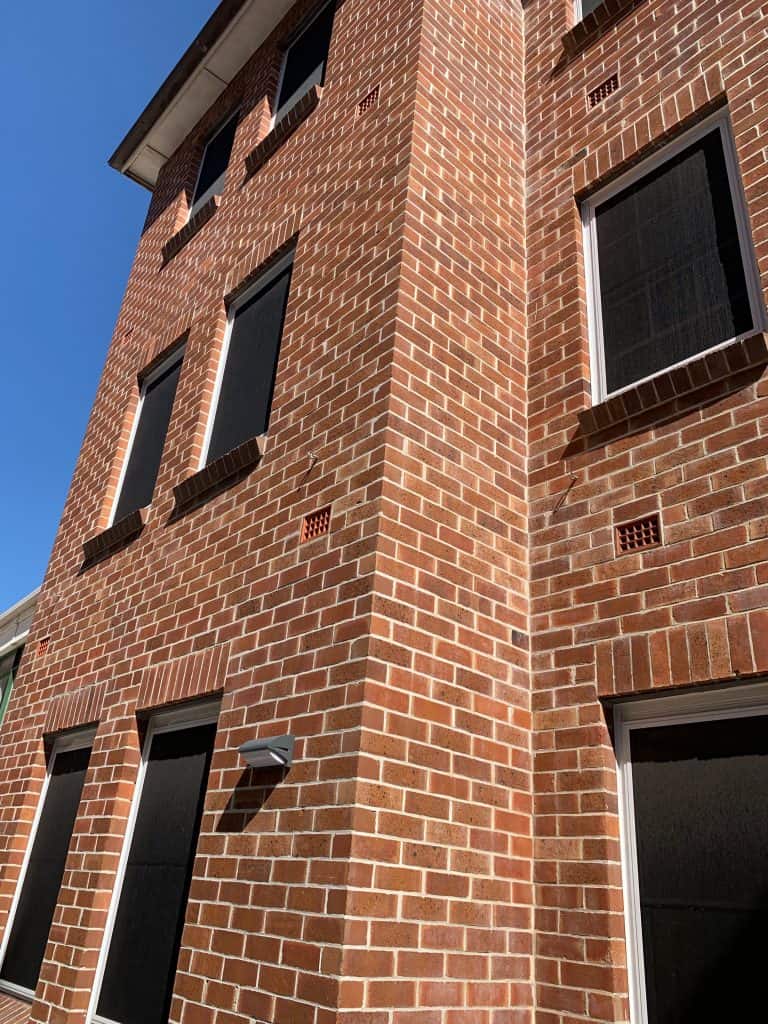 TESTIMONIALS: TUCK POINTING IN ROCKDALE
I would also like to say thank you to the gentleman who carried out the tuck pointing. A professional in every sense of the word. Finally a tradesman who actually knows what he is doing. AOK with me. Regards, Peter.
Projects for this service